Successfull Horses
In the course of his career Dominic-Nathanael Erhart successfully presented countless horses at tournaments. See Vita of his successes. Here some of them are mentioned.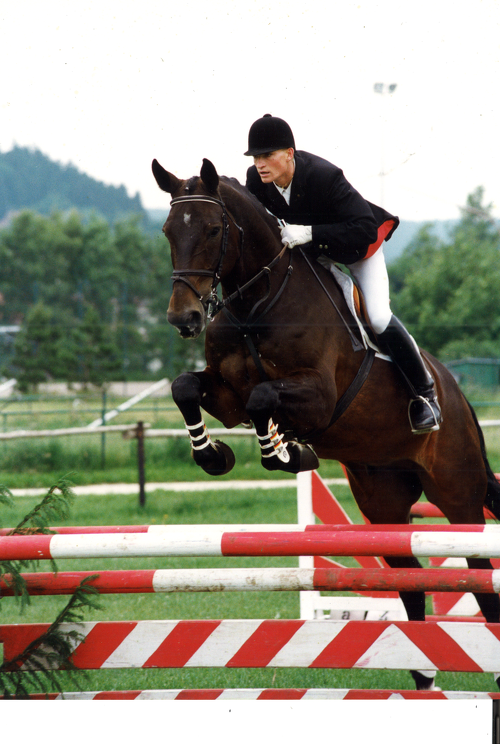 Grandison
During his apprenticeship, he achieved his first successes in dressage and jumping in the A and L classes. After passing the examination for Pferdewirt/ Reiten with distinction, he moved to the private stable of show jumper Helmut Hartmann Gomadingen/Marbach to further his jumping technique, among other things in preparation for his master's examination, which he passed again at the age of 22 with the Stensbeck Award. Here Dominic-Nathanael Erhart collected successes in dressage and jumping up to medium class.
Afterwards he began his dressage specialization. He presented young stallions such as the 4-year-old stallion Jack Pot, with whom he won the Burttemberger Championships and became 4th in the South German Riding Horse Championships at the CDI**** Wiesbaden. With the stallions Probst and Ludwig he achieved his first high successes in the advanced (S) level.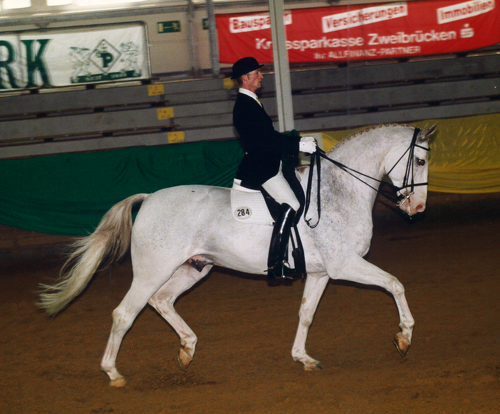 Lux Oil Belcanto
As a master business manager in horse management, he moved to Jan-Peter Schlüschen in Trier, Rheinland-Pfalz. There he presented the horses Artos, Djinn, Lux Oil Belcanto, Lux Oil Gatsby and Witin Z in numerous M and S dressage placings and victories.
Dominic-Nathanael Erhart trained the semi-Albino Lux Oil Belcanto from scratch and achieved numerous national and international placings and victories up to advanced (S) level.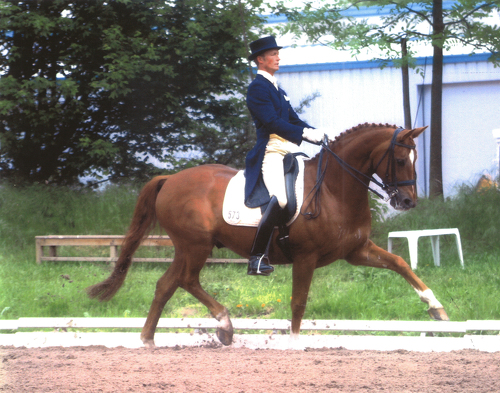 Refrain
The gelding Refrain occupies a special position. This gelding lacked work ethic, diligence and willingness to make an effort. In order to promote his motivation, Dominic-Nathanael Erhart trained him exclusively in the field and only rode at tournaments in the dressage arena.
It was this extremely "comfortable" gelding that became his most successful horse to date.
In the space of 3 years, both horses collected 45 advanced (S) level dressage successes in 1st to 5th place, including at the state championships.
With Refrain he also started successfully at the Frankfurt Festhallenturnier in the Intermediaire-1-Tour.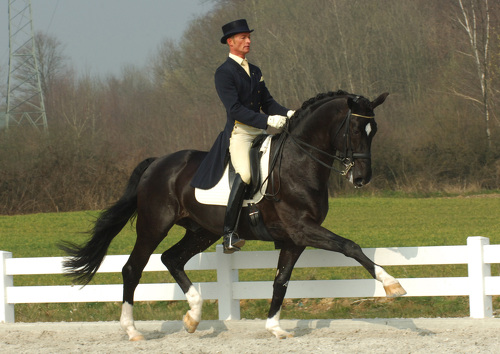 Florett As
Determined to become self-employed, he rode the stallions of the pharmaceutical industrialist Edwin Kohl.
Kohlpharma's Florett As and Kohlpharma's Silvano.
In 2007 the successful Dutch stallion Florett As was acquired. After Dominic-Nathanael Erhart was successful with him in medium (M) level and advanced (S) level dressage, they both jumped into the Grand Prix class.
In 2008/2009 the rider-horse pair competed at international tournaments in Grand Prix, Grand Prix Special and Grand Prix Freestyle, including CDI**** Wiesbaden, CDI*** Strassen/Luxembourg, CDI*** Saumur/France, CDI*** Kaposvar/Hungary and Schloss Wickrath.
In Redefin they both won the Grand Prix Special.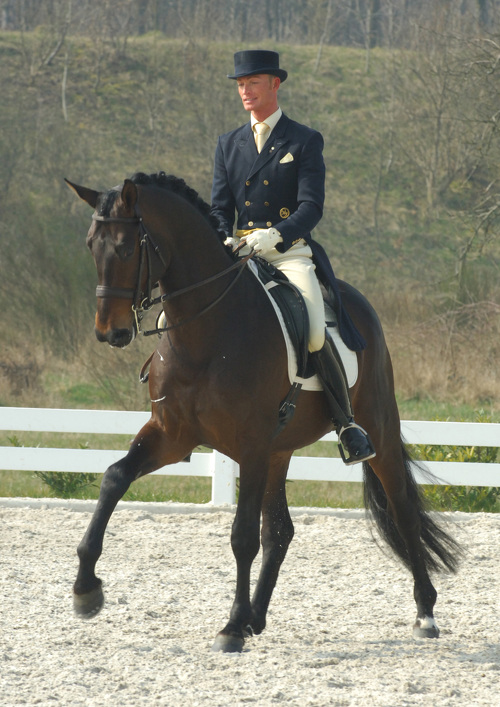 Silvano
Dominic-Nathanael Erhart had a special relationship with the licensed and sought-after stallion Silvano. He came to Dominic-Nathanael Erhart at the age of 6 and was on the training level of class L.
The extremely sensitive stallion quickly gained confidence and won victories and high placings in the following years under his rider at international tournaments such as Wiesbaden, Saumur, Kaposvar, Strassen, Wickrath, Redefin and Nuremberg.
Dominic-Nathanael Erhart even managed to qualify Silvano twice (in Mannheim and in Redefin) for the final of the Nürnberger Burgpokal in Frankfurt.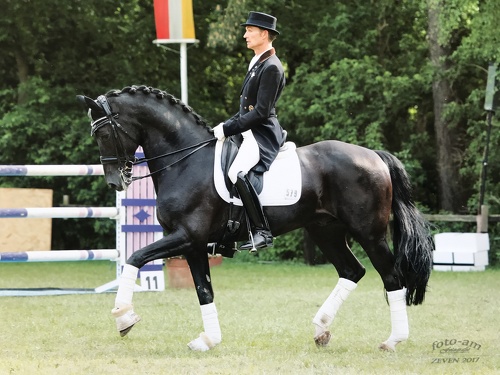 Donnerhall
Ab Januar 2010 verlegte Dominic-Nathanael Erhart aus privaten Gründen seinen Wohnsitz nach Norddeutschland.
Seither ist er auf der Reitanlage Bösch in Neu Wulmstorf/ Niedersachsen tätig.
Erwähnenswert ist hier der gekörte und geprüfte Hengst Fürst Donnerhall, mit dem er in S-Dressuren siegen und in vielen Grand Prix , Grand Prix Küren und Grand Prix Spezial Schleifen sammeln konnte, u. a. 2. Platz im Kurz Grand Prix und 4. Platz im Grand Prix in Hannover, 5. Platz im Gand Prix und in der Grand Prix–Kür in Scharnebeck, 4. Platz in Grand Prix und 6. Platz im Grand Prix Spezial in Wingst/ Dobrock und Grand Prix Kür in Bargstedt so wie viele andere.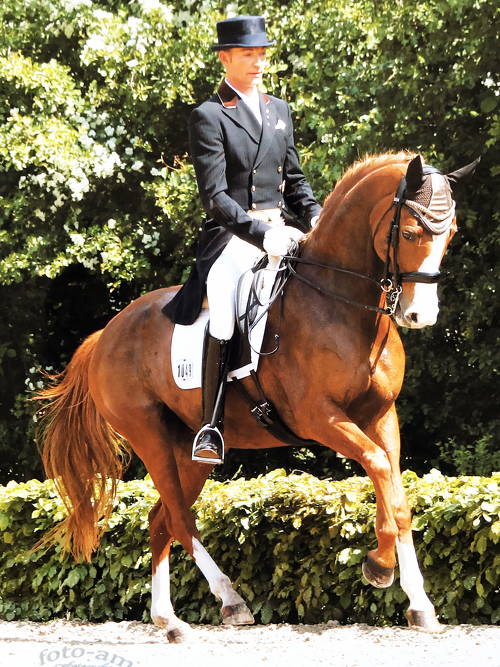 Sunshine
The mare Sunshine was acquired at the age of 4 by Mrs. Gerlind Petereit-Jensch at the auction in Verden. Since then she has been riding with Dominic-Nathanael Erhart.
At the age of 4 she achieved wins and placings in novice class tests for young riding and dressage horses according to her age. At the age of 5 she won L, at the age of 6 she won M, at the age of 7 she was placed S several times.
At the age of 10 the mare jumped into the Grand Prix level. In 2018 the start at the tournament at Gestüt Bonhomme in the Grand Prix Freestyle is to be emphasized here, where she reached 9th place.
In the classification for the Luisdor Prize she reached 6th place in Intermediaire 2.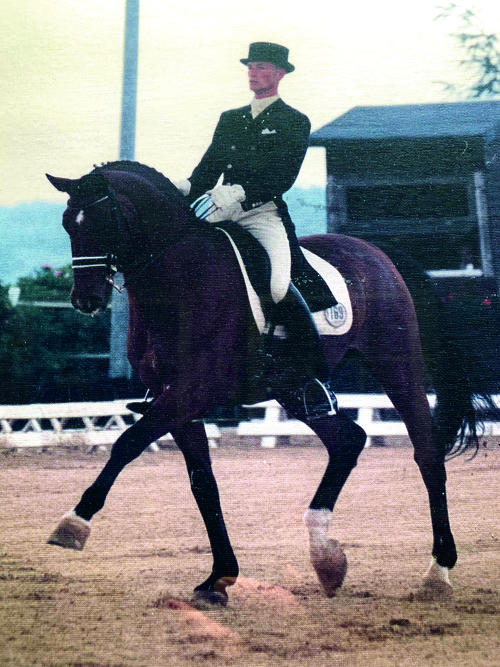 Witin Z
With Witin Z, his apprentice Manuela Fiedler, he won the Golden Riding Badge at the age of 27.
During Dominic-Nathanael Erhart's time in Saarland he introduced horses to the Großklos family. Here he had his entry into the Grand Prix class with the self-trained Glory Day.
ichen bereits mit 27 Jahren.